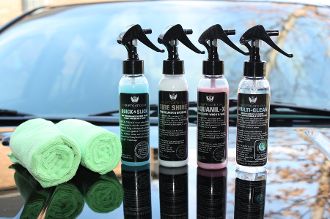 Sample Pack
Whether you are new to our car care products or just want smaller versions to keep in your ride, our sample pack has everything you need to clean, wax & protect your vehicle. The kit includes four 4 ounce spray bottles of the following best selling products:
* Aquanil-X - Our incredible waterless wash and wax with wipe on/wipe off technology is a blend of detergents, advanced waxes and multiple macro polymers that first breaks down and then suspends dirt and grime. It then replaces the dirt with a protective layer of polymers and waxes- ultimately leaving your vehicle clean, waxed and with a deep protective shine, and Aquanil-X contains NO Listed Hazardous Ingredients so its safe to use in your garage, and around children and pets. A truly great product that is eco-friendly, cuts traditional washing and waxing by hours, eliminates runoff pollutants contaminating your yard and drains, and saves 100's of gallons of water.
* Multi-Clean - An EPA approved, biodegradable multiple surface cleaner and degreaser used on both exterior & interior surface areas. Our all-in-One cleaner has the ability to remove heavier then normal dirt and films that conventional cleaners can't touch. Pollutants like road debris, bugs, tar, bird droppings and much more. Use it on the outside of your vehicle surface and on the inside! Powerful enough to remove heavy brake dust, tar, bird droppings, burnt rubber, grease, finger prints and more, yet mild enough to remove stains from fabrics and carpeting.
* Quick-N-Slick - Spray on/wipe off technology will outshine, outlast and protect your vehicle surface far longer than wax. Quick-N-Slick will not shift in heat or micro-crack in cold like wax does! The super surface slickness aids in repelling bugs, road debris and tar. It bonds to the surface creating a detergent resistant slick coating with a brilliant shine. Added antistatic properties continue to repel road dust for extended period of time.
* Tire Shine - Tire Shine Plus is unlike any product on the market. Tire Shine Plus has a sophisticated blend of emollients and gloss agents to leave your tires with a long lasting, satin smooth finish without petroleum solvents of any kind. Other tire cleaners are oily and if it comes in contact with your paint it can be a problem, but with Tire Shine Plus that is not an issue! It is also an excellent product to use on your interior leather or vinyl. A best seller and a truly amazing product you will have to see to believe. Once you try Tire Shine Plus, you will never go back.
* Two Microfiber Towels