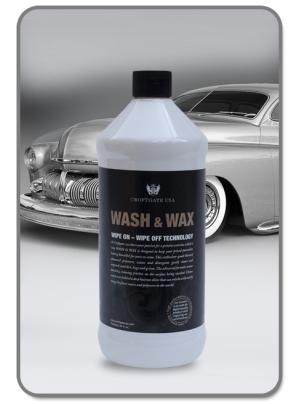 Wash & Wax
CroftgateUSA's Wash & Wax formula is a Wipe On-Wipe Off Technology!
A Wipe on, Wipe off Formula !
CroftgateUSA's Wash & Wax formula is a blend of proprietary detergents that cleans, suspends and removes road dirt, bugs and grime while polishing and protecting the surface with advanced polymers and waxes.
This advanced formula creates lubricity, reducing friction on the surface being washed. Cleans and builds a deep lustrous shine that can only be achieved by using the finest waxes and polymers in the world. The exclusive cross-linking polymer technology used by CroftgateUSA provides a soil and water repellent protective layer. This unique, protective coating makes water sheet off and prevents dirt adhesion to the paint surface.
Use on high gloss and matte finishes
Use on all non porous surfaces. (Body, Windows, Wheels, Bumpers).
Use on Cars, Trucks, Boats, Jet Ski, Motor Homes, and more..
Replaces traditional car wash shampoos that require rinsing which leads to hazardous compounds running into the ground. An efficient & effective, environmentally safe alternative to using a hose. Reduces water usage by 95% or more.
No Phosphates ● No Caustics ● No Listed Hazardous Ingredients● No Petroleum Distillates● No V.O.C's